International Support Desk
International Support Desk
Introduction
 This hospital considers so that patients can see a doctor more smoothly by our interpretation team of English, Chinese and Korean as well as experienced doctors. We endeavor for many patients for relieved and safe medical servicing.
 If you have any questions, please contact us the below.
Phone: 045-641-1921      Monday through Friday 9:00-16:00
Department
Internal medicine
Gastroenterology and Liver Internal Medicine
Endoscope Center
Kidney /Hemodialysis Center
Respiratory medicine
Cardiovascular internal medicine
Surgery(Gastrointestinal surgery, colon / anal surgery, respiratory surgery mammary gland surgery, chemotherapy department)
Vascular surgery
Orthopedics
Neurosurgery
Dermatology
Gynecology (Healthcare checkup only)
Urology
Ophthalmology
Radiology Department
Dental Oral Surgery
Department of Anesthesiology
Pain Clinic Internal medicine
Foreign language information center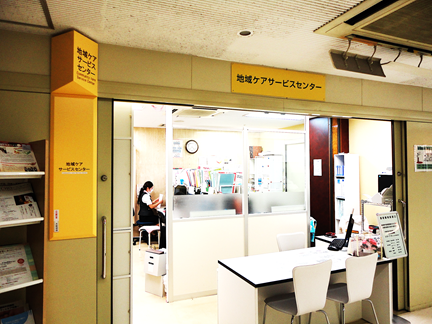 Location: Main Building First floor lobby
Business Hour
Weekday Monday through Friday 7:50 – 11:30
No Office Hour
Saturday, Sunday,National Holidays, and New Year's holiday season (Dec.29th- Jan.3rd)
Address
268 Yamashita-cho, Naka-ku, Yokohama-shi, Kanagawa-ken, Japan 231-8553
Phone:045-641-1921 Fax: 045-671-9872
Access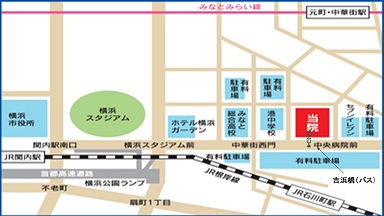 By Train:JR Negishi-Line
[Ishikawacho Station] a 3minute walk from north exit
[Kannai Station] a 8minute walk
from south exit
By Bus: [Yoshihamabashi bus stop]  route number
105, 106, 101, 54, 21
By Car: From Metropolitan Expressway's Yokohama-Koen exit,
turn right Kannai Station south exit signal to Isogo,
turn left Furo-cho signal, turn left ogi-cho 1chome signal, turn right Yokohama Stadium signal
and then go straight 500 meters.
We don't have a
parking, so please use a coin parking around this hospital.